The England-born, L.A.-based Michael Des Barres is a lovable cad and a hilarious scoundrel. The man is a walking performance — part Oscar Wilde, part Keith Richards. He's an actor and a musician, and he sees both sides of his career as one big slab of performance art. Frankly, he's a one-of-a-kind rocker.
We spoke to Des Barres while firefighters were still trying to get control of Malibu. That sobering dose of reality puts a lot of things into perspective for everyone, Des Barres included.
"I spent decades on those beaches, both immoral and moral," he says. "I came here to marry Miss Pamela in 1970-whatever it was. I've just got a lot of friends [there]. Not only famous friends — fire doesn't care who it fucks up."
Des Barre's career is storied, to say the least. He made a name with the glam groups Silverhead and Detective, as well as the supergroup Chequered Past (featuring members of Blondie, the Sex Pistols and Tin Machine), before replacing Robert Palmer in The Power Station just in time to perform at Live Aid.
"The night was way more interesting because we all stayed in the same hotel," Des Barres says. "You can imagine. It was hilarious. I was sitting on a couch with Ronnie Wood, Mick Jagger, Bob Dylan and Don Johnson, and everybody was coked out of their heads. Except me, I'd been sober since '81 so I could see what was happening. All their shades were a little askew. The nervousness before the show was fascinating. I didn't have time to get nervous — I'd only been with them for three days. Robert Palmer dropped out and I came in. The only photograph I've got of it is my laughing my ass off at the absurdity of it."
Music, Des Barres says, is his priority. But he's known for so much more. For starters, he's the ex-husband of celebrated author, actress and socialite Pamela Des Barres. He's also a successful actor, having appeared in movies such as Ghoulies and Mulholland Drive, and TV shows like MacGyver, on which he was a regular.
In fact, he's been appearing on the recent MacGyver reboot, too. But music remains his No. 1 passion. He has a popular show on Little Steven's Underground Garage on SiriusXM, which allows him to hear a lot of new rock & roll music. And he's just formed a new band — The Mistakes.
"I'm playing at the Redwood Bar — the first gig of The Mistakes, which is the greatest name for a band in the history of rock & roll in my humble opinion," he says. "That's where the magic is, when you fuck it up. The Mistakes are an unabashed rock & roll band. We are very loud, and we make lots of mistakes."
He's right, of course. Rock & roll is at its best when it's sloppy — raw and authentic. Not too polished. Des Barres says he has felt this way since seeing the Pistols in San Francisco back in the day.
"I saw The Ramones at the Roxy too, and I had the same feeling," he says. "That minimalistic feel. You can't teach feel. 'Ever feel like you've been cheated,' Sid picking up the money — it's all so iconic. That is classically what I'm attempting here with The Mistakes. Not that in any way I think The Mistakes are going to be the biggest band in the world, by the way. That's got nothing to do with it."
It's been a while since Des Barres has had a band of his own, so one has to wonder, why now?
"I'm 70 and I weigh the same that I did when I was 19 on a Jagger level," Des Barres says with unabashed vanity. "I think that has to be seen as what it is. I want to represent vitalogy, power, strength and energy. And engagement. And do away with all the ageism in rock & roll. Because what you're seeing out there is people snuffing it, or sitting on the couch with the remote control, sort of medicated, which is even worse. I have a lot of energy, and I want to express it the same way I did when I was 19, and that's why I'm doing it. Also, having something that is so potent as rock & roll on your mind and body is the source of vitality in some perverse way. It's like going to the gym, but it's a rock & roll gym. Three chords, not three sit-ups."
As far as Des Barres is concerned, he's doing The Mistakes at the perfect time, coinciding with a great renaissance of garage and punk rock in Los Angeles.
"I love The Regrettes, but I really love the trashy stuff — Glitter Trash and all of that," he says. "When you get up there and it's so rehearsed and so refined, it loses its soul. It's revolutionary in the fact that there is an LGBTQ vibe about it, which I think is the most important thing happening on the rock & roll level. People must accept new archetypes, otherwise they'll drift into conservatism and die. If rock & roll stands for anything, it's chaos, anarchy, danger, experimentation and commitment."
Michael Des Barres and The Mistakes perform at the Redwood Bar on Friday, Nov. 30, and the man himself says we can expect a career-spanning set.
"The Silverhead songs I'm grateful to because people love them," he says. "So I'll do a handful of Silverhead songs. I owe it to people who like me to do songs they know. Although I am doing some covers that will shock people."
Ultimately, Des Barres will do what he wants. Whatever kind of music he's playing, that's the definition of punk rock.
"My thing has always been, I'm on TV and I have the confidence to do that — does that mean that I'm not a punk? Not chaotic? Not anarchic? Fuck off," he says. "I can do whatever I want, and I always have. If I want to be on fucking ALF, and I'm acting with a sock, you can say anything you like to me and it's all water off my back. I've done it on a Frank Sinatra level — My Way."
How many rock n' rollers who fronted a band at Live Aid, do you know who got their big-screen debut in To Sir, with Love(1967), opposite Sidney Poitier and Lulu; and went on to appear on such successful television series as Seinfeld, Frasier, Roseanne, CSI: Crime Scene Investigation, Suits, NCIS, Bones, and Miami Vice, as well as Charmed, Melrose Place, JAG, Northern Exposure, and Gilmore Girls? Now, of those, how many appeared not only on the original versions of WKRP in Cincinnati (1978) and MacGyver (1987); but also, on the reboots of those series, decades later (1991 and 2018, respectively)?
I'm not sure how many folks you've got on your list, but there's exactly one on mine, and that is the incredible Michael Des Barres. Descended from a long line of French nobility that goes back to the Middle Ages,* Des Barres was raised in Englandand formed his first band – The Orange Illusion – in 1967. Around this time, he also began appearing on British TV shows, and later, films.
He fronted the glam rock band, Silverhead, from 1972-1974; before moving to LA where he formed his second band, Detective (a funk/rock outfit signed to Led Zeppelin's Swan Song label), and met his second wife, Pamela.** Following the break-up of Detective (after two albums and touring in support of KISS), and releasing his first solo album (1980's I'm Only Human); Des Barres led the supergroup Chequered Past, a rock cover-band that included Nigel Harrison, Frank Infante, and Clem Burke of Blondie, Steve Jones of the Sex Pistols, and Tony Fox Sales of Tin Machine, whose first performance – at NY's The Peppermint Club – began with a cover of "Vacation" by The Go-Go's. Described by Des Barres as the "New York Dolls in a home for senior citizens," Chequered Past would tour in support of Ratt, Little Steven, and Duran; before breaking-up in 1985, when Des Barres was asked to replace Robert Palmer*** as lead vocalist of the supergroup Power Station, with remaining members Tony Thompson (Chic) and John Taylor and Andy Taylor (Duran Duran). It was during this time that Power Station would perform at Live Aid in Philadelphia.
Oh! And remember the 1985 Animotion hit, "Obsession" (that was the theme to Canada's Fashion Television)? It was actually a cover of a song penned by Des Barres and Holly Knight for the film A Night in Heaven (1983), that was also used in the trailer for 9½ Weeks (1986).
Other bands in which Des Barres has performed since, include (1996-1997), The Usual Susspects (1998-2000), Down Boy(2001), Michael Des Barres and Free Love Foundation (2006-2007), and The Michael Des Barres Band (2011); before he formed Michael Des Barres and The Mistakes, which had its first show this past weekend, in Los Angeles, at the Redwood Bar & Grill.
It was a rollicking performance, attended mostly by folks who've been in the scene since the days of Frank Zappa; but don't think for a minute that Des Barres feels even remotely long in the tooth. The charming 70-year-old rocker delighted fans with faves from Silverhead ("Hello New York," and "16 and Savaged"), Detective ("Detective Man"), T.Rex ("Get it On/Bang a Gong" was a hit for Power Station), The Stooges ("Raw Power"), Marvin Gaye ("What's Going On"), and even The Supremes ("Stop! In the Name of Love"), the last of which was accompanied by a shout-out to my pal, Angela Janklow Stein (who followed her rave about Des Barres' documentary, Who Do You Want Me To Be? (2014), by saying "And you know I don't like anything.") As for newer works, Des Barres et al. jammed hard on his singles "Crackle + Hiss," "Little Latin Lover," and show opener "You've Gotta Serve Somebody," as well as his latest release, "Living in the USA" (that is currently in contention as Coolest Song in the World on SiriusXM's The Underground Garage).
After the concert, my friends Jeff Stein, the aforementioned Angela, and Bryan Rabin took me backstage and introduced me to Des Barres (who is such a lovely guy that the charm practically oozes from his pores). As I left, the thought occurred to me that while rock n' roll might adapt, morph, and yes, get older; thanks to the likes of Michael Des Barres, it will never die.
Michael Des Barres and the Mistakes
The Redwood Bar & Grill
Sunday, November 30th
Click HERE for info
Get into it!
#MDesBarres
[Editor's Note: * The 26th Marquis Des Barres, Michael Des Barres can trace his family's hereditary title back to 12th Century France; whence his ancestor, Guillaume Des Barres, was rewarded with the title of Marquis, for bravely rescuing King Philip II Augustus from an enemy attack // ** Pamela Des Barres, legendary 'Queen of the Groupies' and member of Frank Zappa's famed all-girl group, The GTOs; is the best-selling author of four memoirs, including I'm with the Band: Confessions of a Groupie (1987), and has written for such publications as The New York Times, Rolling Stone, and Cosmopolitan // *** Robert Palmer withdrew from Power Station to record his double-platinum certified eighth studio album, Riptide(1985)]
Michael Des Barres and the Mistakes
at the Redwood Bar,
Downtown Los Angeles, CA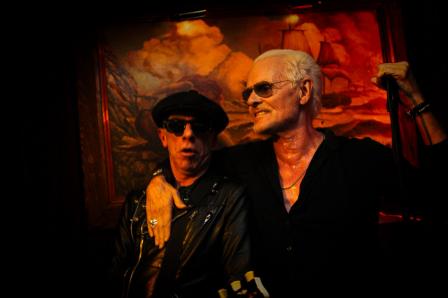 Photos by Victoria Borjesson
When I think about how I would describe Michael Des Barres - these words come to mind: always ELECTRIC and forever MAJESTIC. I know this sounds like more of a "tag line", but these words should be deemed a "brand name" for Des Barres. But Des Barres is way too cool to be branded.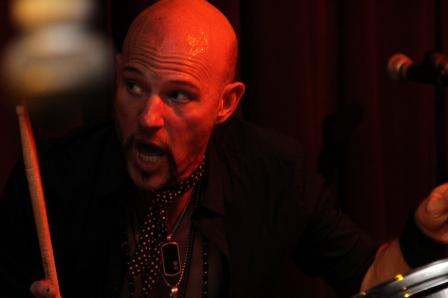 Over the last half century, Marquis Michael Des Barres has taken on many shapes and forms - from his beginning as a classically trained young actor and to an iconic, slithering sexy rock 'n roll singer, songwriter, guitarist, character actor, and LSUG radio host, and then he circles back to who he was truly born to be: one of rock and roll's most powerful vocalists of our time.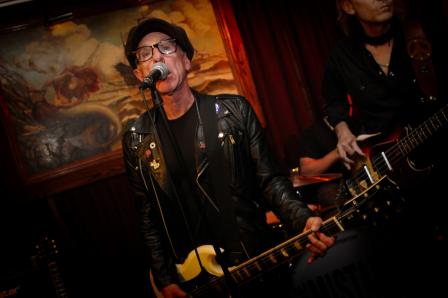 The magic was certainly on the stage at the Redwood Bar, DTLA on November 30th wherein Michael Des Barres unveiled his new band, The Mistakes. The Mistakes, are anything but that and are nothing less than a super group consisting of all veteran musicians - Loren Molinare (Little Caesar, The Dogs) on guitar, Erik Himel (Powerman 5000 and host of The Sunset Jam) on guitar, Paul Ill on bass guitar (studio and touring bassist), and Matt Starr on drums (studio and touring drummer filling in for Blondie Drummer Clem Burke). Des Barres and each of his band mates have an equally IMPRESSIVE list of credits a mile long).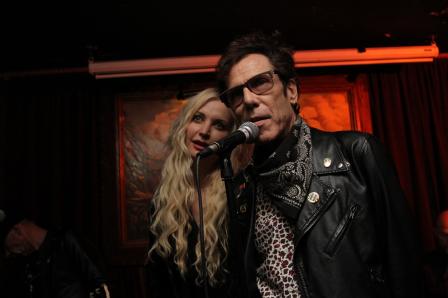 The band was introduced by Des Barres' Rock-a-Billy Buddy Slim Jim Phantom (Stray Cats), and his lovely and talented partner, bassist Jennie Vee (Eagles of Death Metal). Within seconds after the introduction, Des Barres and The Mistakes burst into their forceful, raw, and high energy version of Bob Dylan's "You Gotta Serve Somebody" with fury, grit and purpose, immediately followed by the fiery and LSUG's Coolest Song in the World this year, "Living in the USA," released on Wicked Cool Records earlier this year.
The electricity and raw sound that erupted out from that small stage into the standing- room-only audience proves again and again that Des Barres continues to stand the test of time. Most impressively, Des Barres' thrilling performance transported his fans and friends including ex-wife and famous groupie Pamela Des Barres, game and talk show host Drew Carey, and so many more of us back to his 1970s roots with a staggering and mind-blowing set of 14 songs which spanned over his half century musical career, and featured a handful of Silverhead, Power Station, and Detective songs and classic cover tunes performed in authentic Des Barres' soulful and raspy voice. The hard-hitting, adrenalin fueled rock 'n' roll songs showcase the distinctive and explosive guitar playing by Molinare and Himel, while powerfully fortified by the ferocious rhythm and percussion sections of Ill on bass guitar and Starr on drums.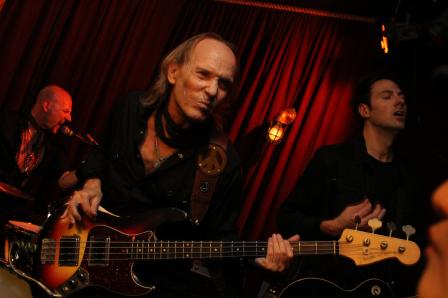 Considering all that precedes him, Des Barres pulled off an incredible deed: echoing the still-awesome swagger of his old bands with an infinitely gifted and talented new band. Aside from bringing back the golden age of rock and roll when rock was king, It is clear that DesBarres' mission in life is to "be of service" to everyone he meets. This is evident as he continuously yells out to the crowd: "I love you all" throughout the entire performance. And he means it. He truly worships his audience. He treats everyone he meets as his friend, rather than a fan, and he does so with love and respect. I have personally experienced this each time I have randomly run into Des Barres. He is brilliant, charming, beautiful, spiritual, naughty, electric, majestic, and punk rock all rolled into one mystifying soul.
There is nothing on Des Barres' horizon…but everything.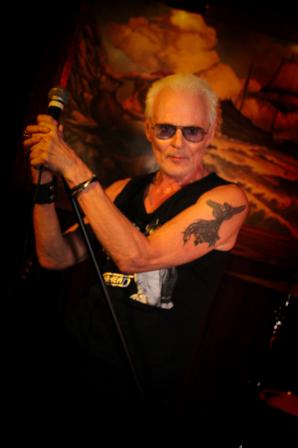 Set List:
You Gotta Serve Somebody (Bob Dylan)
Living in the USA (Des Barres)
What's Goin On (Marvin Gaye)
Crackle and Hiss (Des Barres)
Get it on (T Rex)
Hello New York (Silverhead)
Stop In the Name of Love (The Supremes)
Detective Man (Detective)
Little Latin Lover (Des Barres/Ill)
Love Man (Des Barres)
Good Golly Miss Molly (Little Richard)
Long Tall Sally (Little Richard)
16 and Savaged (Silverhead)
Raw power (Iggy Pop)